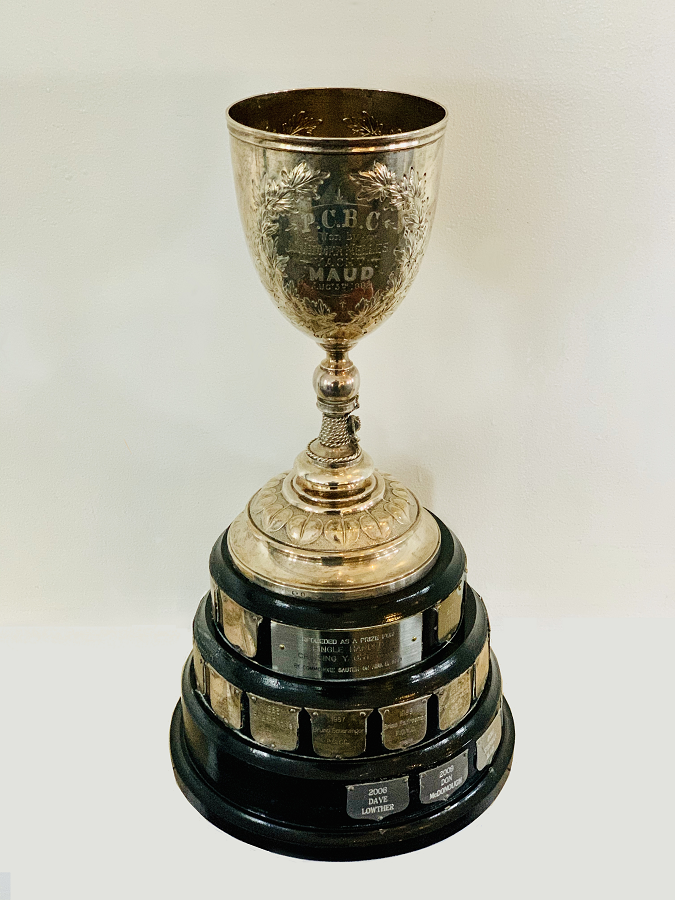 Maud Cup
August 5 1882, a sailing regatta was held.
Mr. Widmer Nelles won the regatta with his yacht named MAUD.
Mr. Nelles was one of the 37 founding members of the Pointe-Claire Yacht Club in 1879.
In 1970, this trophy was re-deeded in order to honor the winner of a single-handed race.
Winner 2021
Frank Ferrara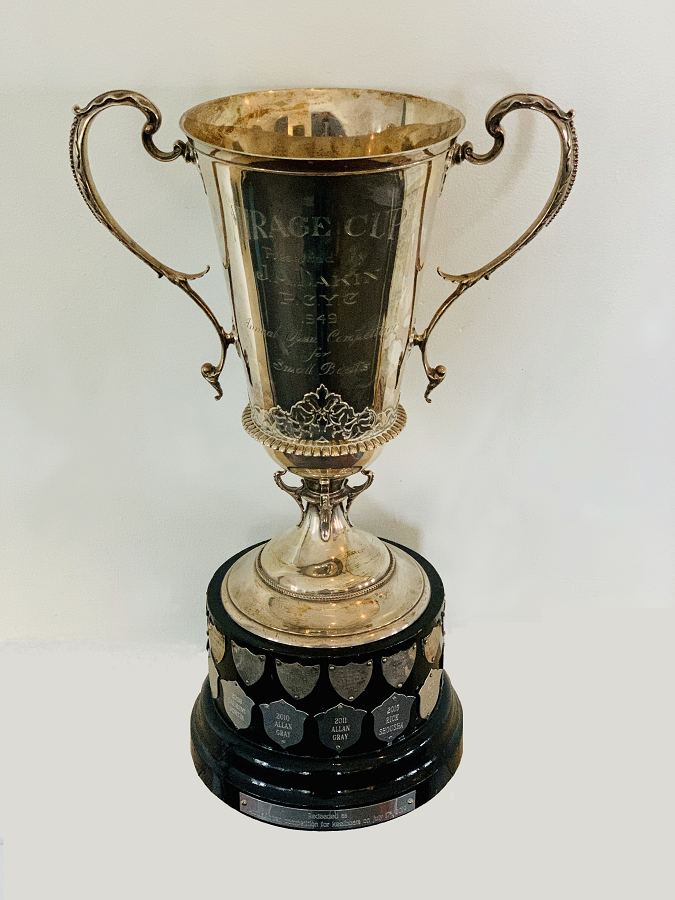 Mirage Cup
In 1946, J.A. Dakin (a contractor and developer who built Gables Court) sailed a boat named MIRAGE and purchased this cup from Birks for $34.
He donated it to Commodore Lindsay H. Place and was then awarded to the winner of the Mirage Cup race that year.
The event is a test of endurance with 2 races totalling more than 4 hours of racing!
Winner 2021
Alain Vranderick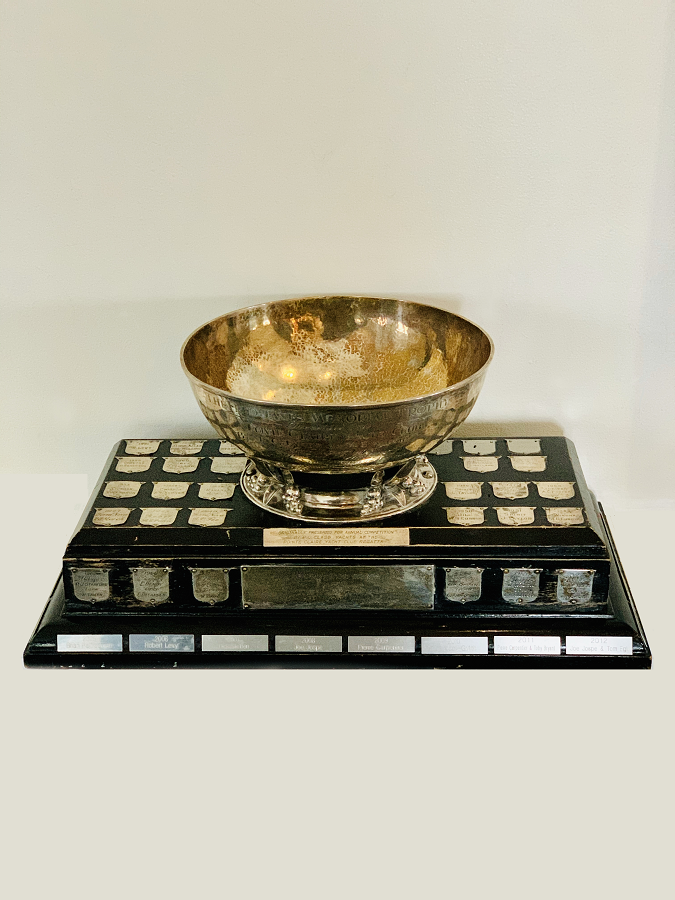 Club Championship Trophy
This trophy was presented to E.C. Janes and E. March in memory of their son, Sgt. Fred Janes, who was killed in action in Normandy on July 25, 1944.
Its first winner was in 1947.
Today, we award this trophy to the winner of the event that invites PCYC's top racers of the season.
Winner 2021
Bill Thompson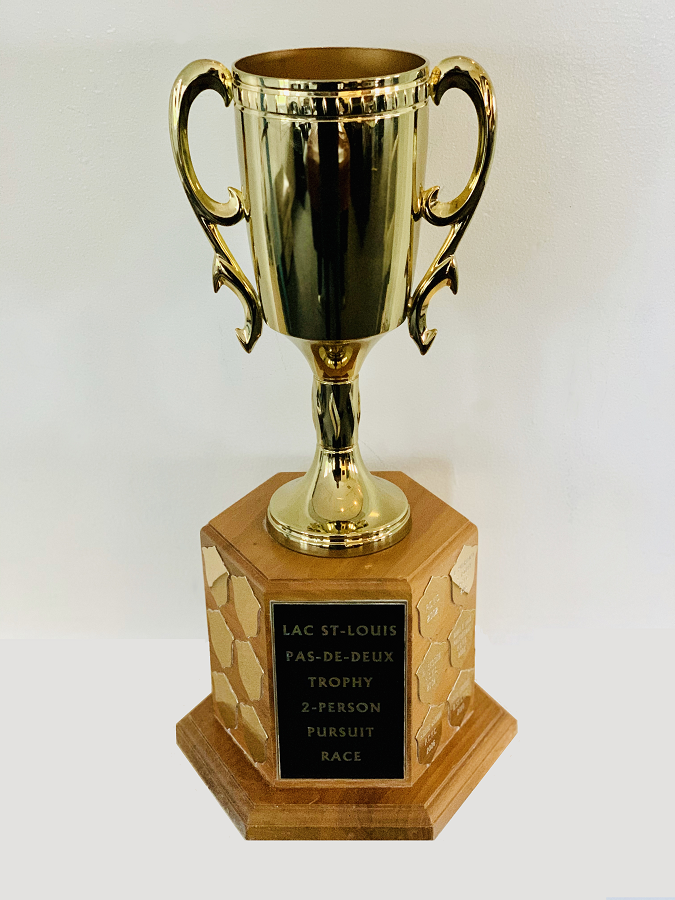 Lac St. Louis Pas de Deux Trophy
Racers from all 5 clubs on Lac St. Louis participate to represent their respective clubs. Boats are crewed by no more than 2 members and navigate around a series of SLVYRA marks. Boats accumulate points for their respective clubs based on their finishing order. The club with the most points is awarded the Lac St. Louis Pas de Deux Trophy
Winner 2021
Team PCYC
Pierre-Eric Dochez, Jan Ericsson, Frank Ferrara, Mathieu Grainger, David Lowther, John MacLeod, Catherine Rossignol, Alain Vranderick, Deirdre Ware, Ian Wooden, Yu-Wei Yang, Jean-Luc Taschereau and their crew!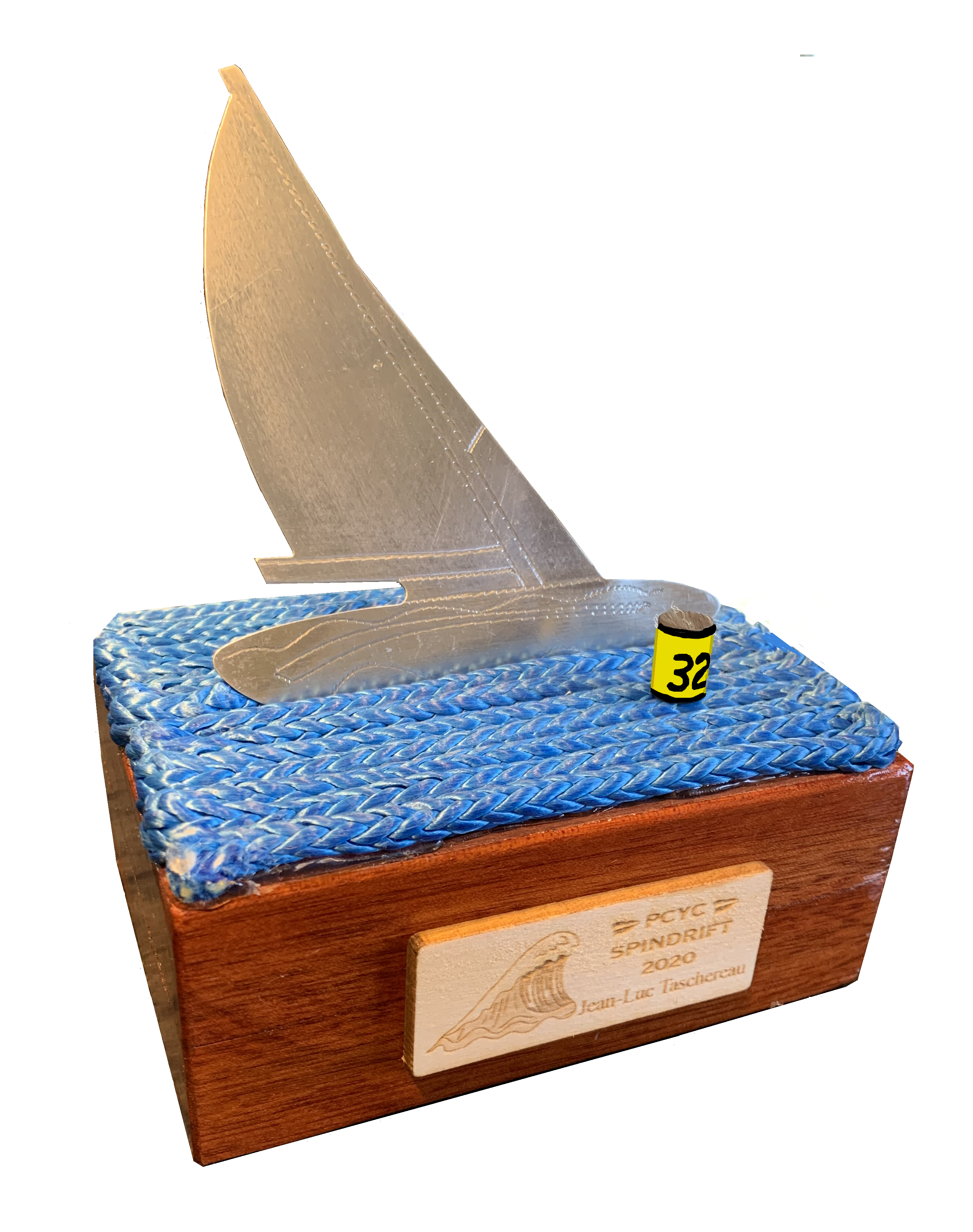 Spindrift Trophy
Spindrift, a new speed competition that demands optimum sail trim, precise steering, and flawless navigation around a preset course.
Awarded to the most active participant in this competition, committed and determined to improve their sailing skills and their fastest time around the course.
Winner 2021
Jan Krejcar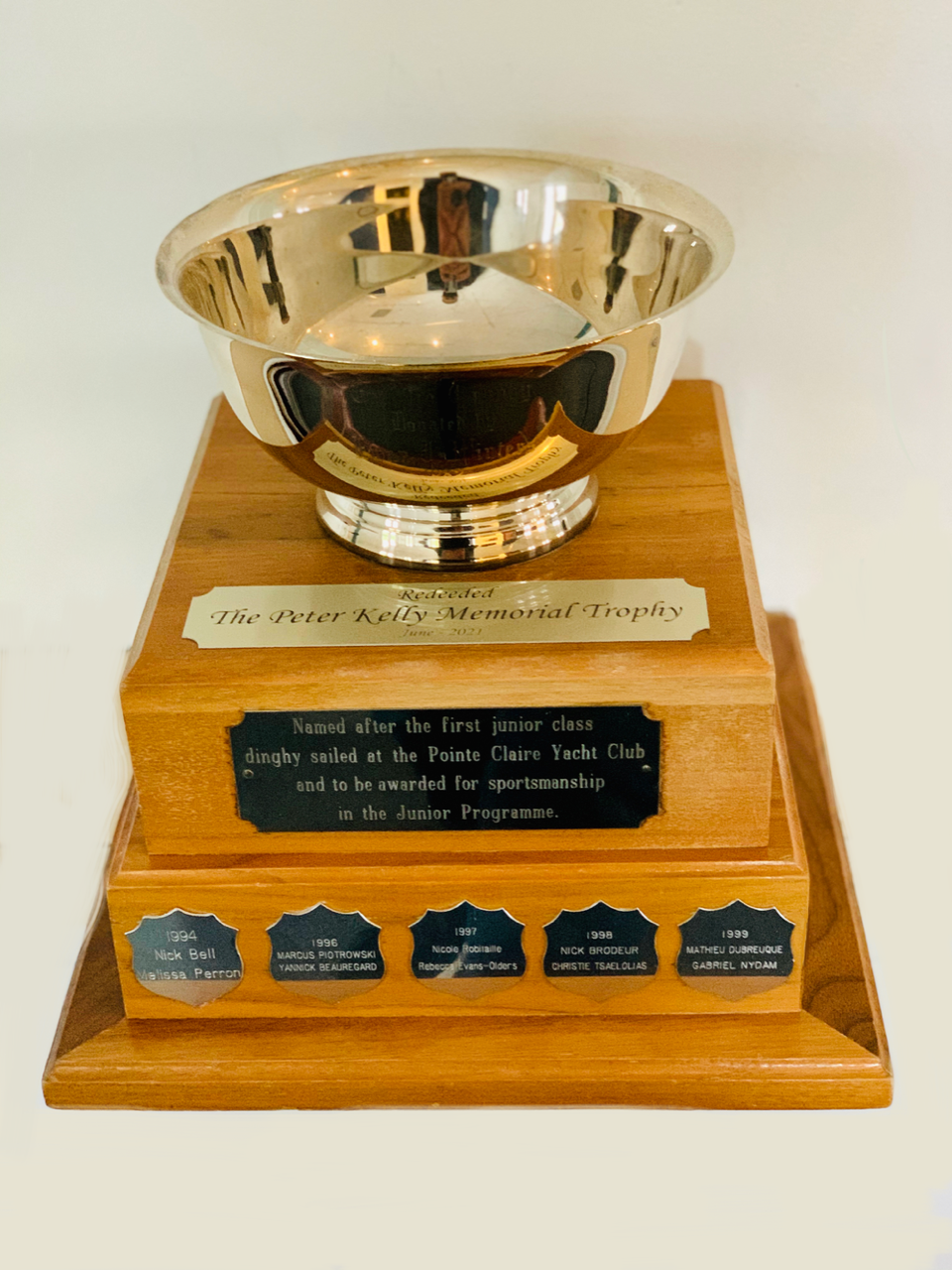 Peter Kelly Memorial Trophy
This trophy formerly known as The Gremlin Trophy was re-deeded in 2021.
Participation in sailing activities and especially in competition has the potential to help aspiring young athletes develop self-confidence and independence.Competitors develop respect for themselves, their colleagues and the equipment they use.
The late Peter Kelly believed that not many sports can match what sailing can contribute to the development of young athletes. His numerous commitments to junior sailing programs matched with the right environment have allowed some of our athletes to compete at the highest levels.
Winner 2021
Angus Beauregard
(Hudson Yacht Club)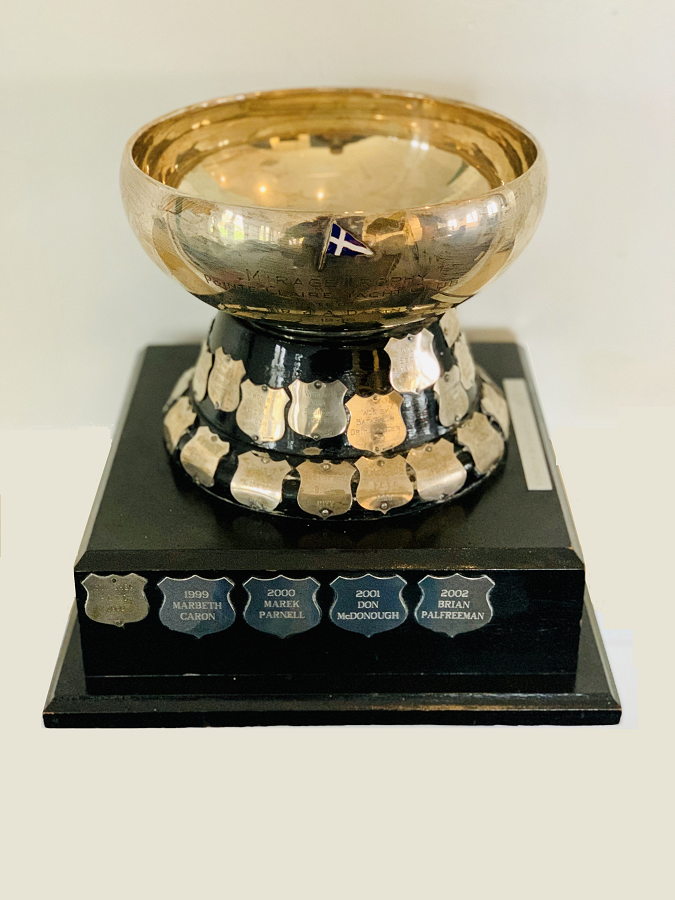 The Mirage Trophy
This award is presented to the participant who achieves "line honours". In order to encourage innovation and unconventional racers, this line honours event is open to all non-motorized watercraft. The event is not restricted to sailing vessels, either. Rowing shells are welcome.
Winner 2021
Alain Vranderick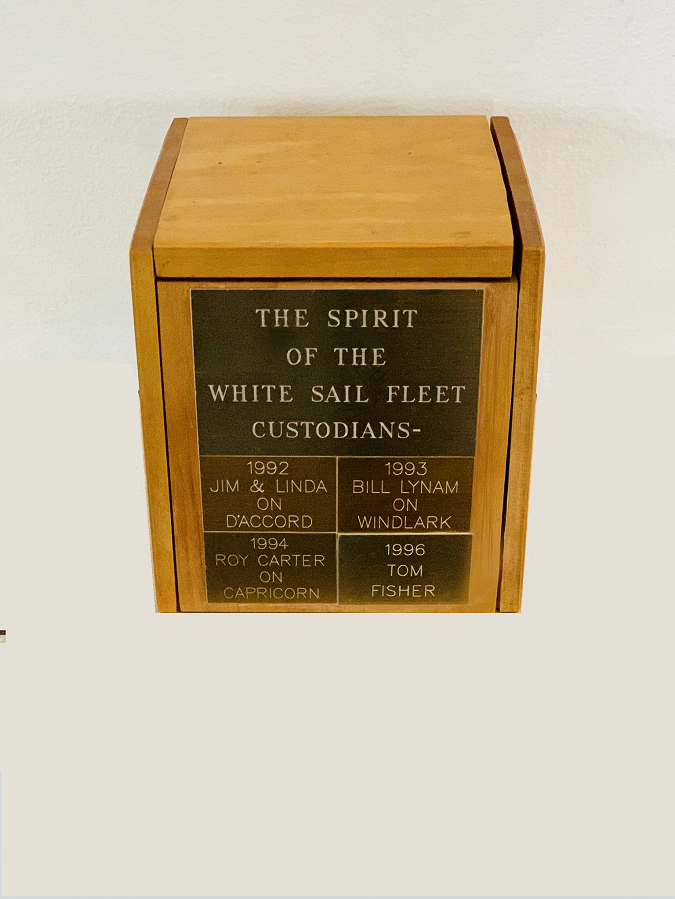 The Spirit of the White Sail Fleet Award
The award is presented to the person who takes to the water, participating in White Sail events they love and strive to excel at; engaging themselves as a means of achieving development with the utmost enjoyment, sportsmanship and graciousness.
Winner 2021
Eric Marsolais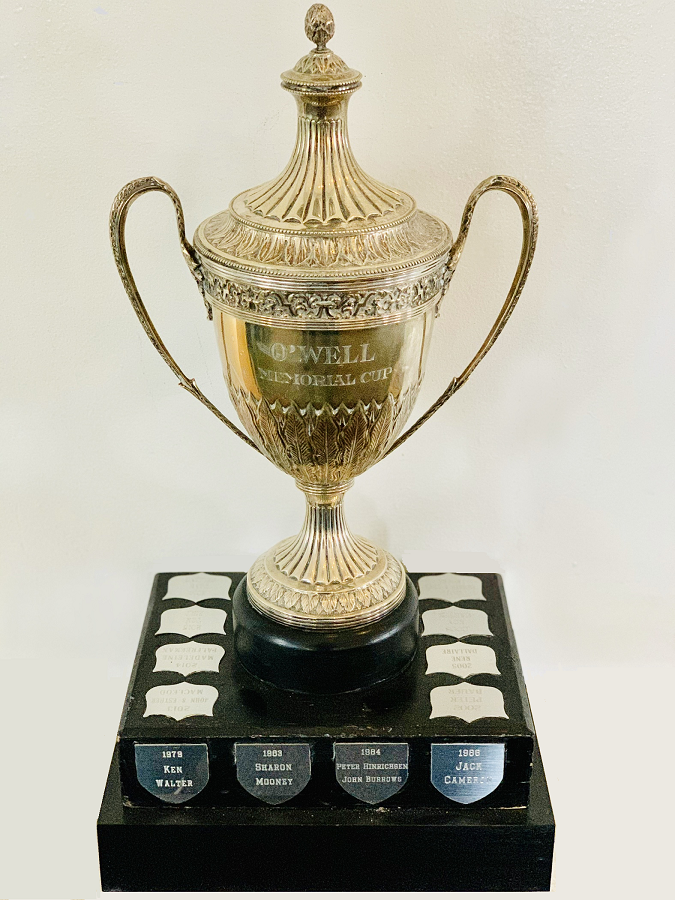 The O'Well Memorial Cup
This cup is awarded to a member of Pointe Claire Yacht Club who has made a significant contribution to the sport of sailing whether such contribution be personal achievement or by support and participation at any level of the sport.
Winner 2019
George Stedman